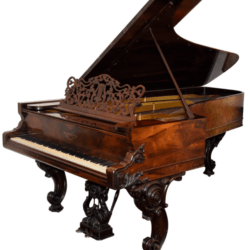 Here is the line up for Show #103, September 25, 2017:
1. Night Beat 4-30-50 "Am I My Brother's Keeper?"
Randy stumbles upon a murder while investigating the night scene for his Chicago newspaper column. The murder turns into a hostage situation and the results are truly suspenseful and tragic.
This is one of the best episodes of Night Beat and one you won't want to miss.
2. Jack Benny Show 10-14-47 "Jack Has a Sprained Ankle"
Jack is home in bed recovering from a sprained ankle and many of his many well-wishers visit him with hilarious results.
Note: The reference I make at the conclusion of the show to "The Walking Man" can be found here in Martin Gram's blog post from 2014: "The Walking Man"
3. Gunsmoke​​​​​​​​​ 8/17/58 "The Piano"
Matt and Chester are on the chase, tracking down two stagecoach robbers who killed the driver. The trail leads them to a shanty-shack belonging to a memorable old southern woman of fine breeding who is still living in the past. She is willing to help the lawmen, asking only that they do not harm her fine things --- especially her beautiful cherry wood piano.
This is one of the most dramatic and yet most poignant episodes of the entire Gunsmoke run. ​
More...
Come along for the ride and share the memories, laughter and tears.
Bob Bro has been hosting shows that feature old time radio programs for more than ten years. His shows have been heard on a host of venues and Boomer Boulevard is now available as a podcast. Bob teaches storytelling and public speaking. He lives with his wife, Carol, near St. Louis.
​