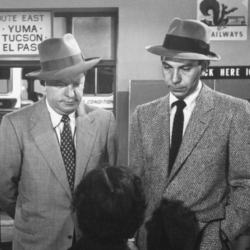 Here is the line up for Show #104, October 9, 2017:
1. Dragnet 4-6-54 "The Big Saw"
Joe and Frank, who are working with the Robbery Division, investigate the armed robbery of a local bank, their leads take them to a local rental car agency and a mysterious woman who has a purse full of hundred dollar bills.
​2. The Halls of Ivy 6/7/50 "D-Day"
When Vicki discovers her husband's calendar designates June 7th as a "Second D-Day" she asks him what it means. For the life of the professor, he can't remember. And a very funny show unfolds as he tries to figure out what the cryptic message means. Good episode.
3. Gunsmoke​​​​​​​​​ 7-19-54 "The Queue"
John Meston has written an outstanding story that offers a truly unique view of prejudice in America during the late 1800s. The story deals with a Chinese immigrant who comes to Dodge City, and the terrible way many of the citizens of Dodge treat him.
This is a unique episode and again emphasizes why Gunsmoke was considered the first adult Western.
​
More...
Come along for the ride and share the memories, laughter and tears.
Bob Bro has been hosting shows that feature old time radio programs for more than ten years. His shows have been heard on a host of venues and Boomer Boulevard is now available as a podcast. Bob teaches storytelling and public speaking. He lives with his wife, Carol, near St. Louis.
​