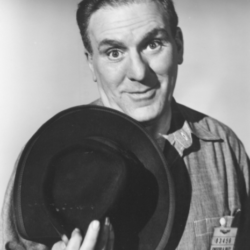 Here is the line up for Show #105, October 23, 2017:
1. Lux Radio Theater 11/21/51 "Winchester 73"
In a shooting contest Lin McAdam wins a prized Winchester 73 rifle. When the rifle is stolen by Dutch Henry Brown, we are journey-bound as we follow the rifle and see it change hands, one owner to the next, before a dramatic final showdown. Along the way we meet up with Wyatt Earp and a host of dastardly villians. Stars Jimmy Stewart.
​

2. The Life of Riley 12/3/48​ "Impressing the Boss"
After Riley counsels Junior that it would be wrong to try to get a good grade by raking his teacher's lawn, Peg points out he has done the same thing when he helped his boss fix his roof for free. The plot develops into a very funny disagreement between Riley and Gillis, his next door neighbor.
​

3. Gunsmoke​​​​​​​​​ 1/30/54 "Gun Smuggler"
Matt, Chester and Tobeel, an Indian scout, are determined to track down white gun smugglers Matt believes are selling rifles to Pawnee warriors. But Matt has a problem, he must first convince the U.S. Cavalry that his hunch is right.
​
More...
Come along for the ride and share the memories, laughter and tears.
Bob Bro has been hosting shows that feature old time radio programs for more than ten years. His shows have been heard on a host of venues and Boomer Boulevard is now available as a podcast. Bob teaches storytelling and public speaking. He lives with his wife, Carol, near St. Louis.
​