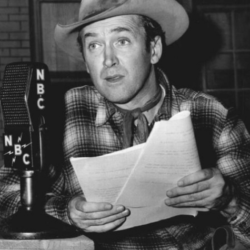 Here's the line up for Show #107- November 20, 2017
1. Night Beat 2/13/50 "Night is a Weapon"
While patrolling his nightly beat in search of for stories, Randy runs across a man with a strange phobia that has him bording on paranoia. But is it truly paranoia if someone is actually after you?
2. The Six Shooter 11/15/53 "Escape From Smoke Falls"
Tensions arising from a love triangle are briefly interrupted when a notorious outlaw shoots the local sheriff while breaking out of jail. Britt is pressed into service by the dying lawman and ends up not only pursing the outlaw, but also helping the jealous suitors.
3. Gunsmoke 1/1/55 "The Bottle Man"
Matt is stuck trying to figure out why Cassidy, the town drunk, is suddenly obsessed with killing Klell, the new gambler in Dodge. And why is Cassidy determined to sober up to impress Flora, Klell's young wife?
More...
Bob Bro has been hosting shows that feature old time radio programs for more than ten years. His shows have been heard on a host of venues and Boomer Boulevard is now available as a podcast.
Bob teaches storytelling and public speaking. He lives with his wife, Carol, near St. Louis.
Come along for the ride and share the memories, laughter and tears.