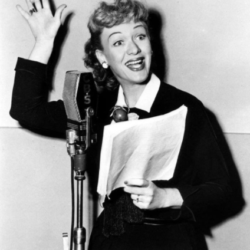 Here's the line up for Show # 108 - December 4, 2018
1. Adventures of Philip Marlowe 6-14-50 "The Face to Forget"
​Phil's pursuit of Dave Straud, a person of interest he is trying to locate for a beautiful client, leads him on a train ride to San Francisco. On the way the sleuth is confronted by a series of mysterious traveling companions in what turns out to be a who's who? as well as a whodunnit.
2. Our Miss Brooks 1-30-49 "Custodian of Student Funds"
​When Connie is appointed by Mr. Conklin to handle the Madison High School's student funds account, a sum of $25.00 turns up missing right before the beloved principal is due to perform his first audit. Very funny episode.
3. Gunsmoke 6-11-55 "Trust"
​Matt and Chester find themselves 90 miles from Dodge in pursuit of James Nation, a man wanted for murder. With their horses lame, and Nation caught, a stage coach ride back to Dodge City turns into a chess game where Matt must decide if trusting his prisoner could cost him his life or save it. Great sound quality on this episode!
More...
Come along for the ride and share the memories, laughter and tears.
Bob Bro has been hosting shows that feature old time radio programs for more than ten years. His shows have been heard on a host of venues and Boomer Boulevard is now available as a podcast. Bob teaches storytelling and public speaking. He lives with his wife, Carol, near St. Louis.
​