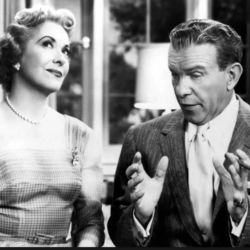 Here's the line up for Show # 111 - January 15, 2018
1. The Six Shooter 1/17/54 "The Silver Buckle"
​When Lex and Kit Springer ride into Britt's camp they claim to be part of a posse searching for the killers of Carl Davis. When Britt spots the silver belt buckle worn by Kit, however, he begins to question the legitimacy of their story.
2. The Burns & Allen Show 3/20/47 "Gracie Gets a Watchdog"
​​A recent crime wave involving home burglaries convinces Gracie that she and George need a watchdog for protection. Only problem is,when Gracie brings home the dog it is loves everyone --- except George!
3. The Bickersons 3/20/47 "John's New Fishing Pole"
This is a short situational sketch that was originally part of Drene Time, a variety show starring Don Ameche and singer-actress Frances Langford. The show played on NBC and was sponsored by Drene Shampoo. The segment was referred to as "The Honeymoon Is Over" and was always hilarious!
4. Gunsmoke 4/8/56 "Widow's Mite"
​Days after Zac Morton and his partner rob the Express Office in Dodge City, Zac is killed by Matt in a gunfight and his partner drowns in the Cimmarron River. But Matt still has a problem -- the stolen money has never recovered and folks in Dodge are feeding the rumor mill. They believe Zac left the cash with his wife, Ada.
But the widow Ada claims to know nothing about it.
More...
Come along for the ride and share the memories, laughter and tears.
Bob Bro has been hosting shows that feature old time radio programs for more than ten years. His shows have been heard on a host of venues and Boomer Boulevard is now available as a podcast. Bob teaches storytelling and public speaking. He lives with his wife, Carol, near St. Louis.
​