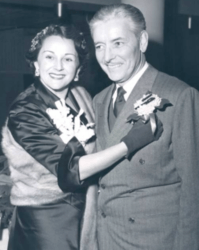 Here's the line up for Show # 111B - January 22, 2018
1. The Halls of Ivy 9-27-50 "The Leslie Hoff Painting"
Professor Hall is forced to decide between accepting a $500,000 endowment from a grieving mother, or upholding the school's tradition of accepting students of all races. A dramatic painting done by an Ivy Student helps everyone learn a lesson. If this episode does not bring a tear to your eye, you are made of sterner stuff than I am.
2. The Halls of Ivy 4/21/50 "Traffic & Coconuts"
​​Mr. Merriweather's enchantment with Victoria is the subject of this fun episode featuring a lively musical number (the title song of this episode) performed by Benita Hume. In the meantime Professor Hall provides an important lesson in civil obedience. Good episode
3. Gunsmoke 12/18/55 "The Scared Kid"
Henry Gant is shot in the back by a young man named Gil Varden. Matt has always known Gil to be a mild mannered young man, but now he is running scared. As Matt and Chester track him across the prairie they are met with a bloody trail of Gil's victims. This gritty episode has outstanding sound quality and is a prime example of why Gunsmoke was truly called the first western for adults.
4. Gunsmoke 12/12/55 "Twelfth Night"
​A feud which began in the Ozarks between two families is carried into Dodge City. With the threat of new bloodshed, Matt must try to intervene between the two current patriarchs. It sounds dramatic, but this is actually a light-hearted story that was the Christmas offering in 1955.
​
More...
Come along for the ride and share the memories, laughter and tears.
Bob Bro has been hosting shows that feature old time radio programs for more than ten years. His shows have been heard on a host of venues and Boomer Boulevard is now available as a podcast. Bob teaches storytelling and public speaking. He lives with his wife, Carol, near St. Louis.
​