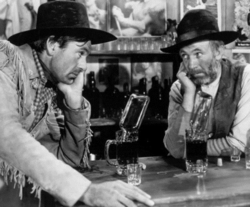 Here's the line up for Show # 113 - February 12, 2018
1. Lux Radio Theater 9-23-40 "The Westerner"
​​Judge Roy Bean (Walter Brennan), a self-appointed hanging judge in Vinegarroon, Texas, befriends accused horse thief Cole Harden (Gary Cooper) because of Cole's personal relationship with the famous actress Lilly Langtree--- the woman of the judge's dreams. Lots of action dealing with homesteaders vs cattle barons. Great story.
2. Jack Benny 11-21-54 "Jack is in Bed With a Cold"
​Jack Gets a cold while at Don Wilson's house, and he's not the most patient of patients. This is a very funny episode and you can enjoy it in outstanding crystal clear sound.
3. Gunsmoke 7-5-55 "General Parsley Smith"
Matt is faced with a memorable character in the form of General Parsley Smith. It soon becomes obvious the man is a braggart and a chronic liar --- but what he has to say about a Dodge City crime in the making cannot be ignored. Great characterization by John Dehner and a surprise ending by John Meston.
Come along for the ride and share the memories, laughter and tears.
Bob Bro has been hosting shows that feature old time radio programs for more than ten years. His shows have been heard on a host of venues and Boomer Boulevard is now available as a podcast. Bob teaches storytelling and public speaking. He lives with his wife, Carol, near St. Louis.
​